I feel like every year I say "well that was one for the books". This year was no different.  To take inventory of my year here is the breakdown.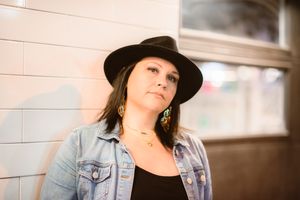 Started a band (The Fire Signs) 
Started a long-term relationship 
Started a new full-time job with an amazing company 
FINALLY finished & released my EP "Sleep with Ghosts" 
Released my very first ever Music Video! (Rearview - Check it on YouTube)
Had one child turn 18!  (Yes I'm that old)  
Had approx 30 performances despite COVID both solo and band!  
Did my very first mini-tour in Ontario both solo and with my band 
Ended long-term relationship (three weeks before Christmas) 
Received a raise for 2022 
Took my first two-week vacation ever 
Was awarded funding from the Govt. of NB/Music NB for the MID Program for recording, professional development, and touring 
Celebrated two years alcohol-free! 
Was awarded the SOCAN Foundation Professional DevelopmentGrant 
Paid off expenses for EP 
Worked with some incredible Co-Writers for new material  
Bought more cute dresses!!!! 
Let's talk about this, shall we?  
Funny, I can barely remember how I felt this time last year but this was the first year that felt like I could actually thrive after years of really just cleaning up messes and surviving. That might be the biggest gift I've ever given myself. I worked really hard over the past few years so it's very satisfying to know that it is paying off and I am seeing so much growth.  
The Relationship
I started 2021 single but then by February, I had finally taken the chance to open my heart again to another person after a long time of being single. It had been something I was so scared to do because I had been so broken in the past along with all the half-assed dates I had been on. He made me laugh and I was so excited to spend time with him.  We had a great honeymoon phase. 
I had to learn to open up and trust a bit more but also to stand my ground on what I truly want in a partner.  He was a safe place for me to heal for a while kind of like relationship rehab. Honestly, it was uncomfortable at times working through some triggers because we had such different communication styles and it caused a lot of friction.  
In early December...I made the tough decision to end it. Now I'm grieving what we had and what I was hoping to build with this person. I'm really sad with this broken heart at Christmas but my little bandaged heart just needs to catch up to my mind because I know I made the right decision. I still gave him the duck socks I ordered from amazon because they were funny. Although he has not acknowledged me at all since....that's just who I am and felt like it was the thing to do.  
The rest of the longer story of us will likely make its way into a new record because it still feels unresolved but I really did (or do) love him.   
Before I move on from my failed relationship actually if I think back to years ago. This year I celebrated two years alcohol-free.  You see old drinking Jaclyn would have got drunk, swiped tinder, and tried to get over it by not dealing with the hurt and disappointment. The fact that I've got through a fairly significant breakup right before Christmas and have no inclination to drink is a huge win for me.  I finally feel in control of it yet still have zero desire to sip OR date!!!!   
Now let's move on to much better things. I had one heck of a great year really and I wanna tell you more.  
The Job 
For a long time, I didn't feel like I should talk about the fact that I had to do anything other than music to survive. It was a pressure that I can't even explain. I wasn't trying to look the part of a full-time musician but I just didn't make it public.  The reality is that to make it a full-time job is just too risky for someone like me who is a single mom with two kids. 
So COVID kind of blessed me with no other option than to leave self-employment and find another source of income that would support my family and my creative endeavors.  
I'm happy and feel supported as a human and I have the vacation time that allows me to still perform music. So none of that will change any time soon. Music will always be a part of my life...kids only grow up once and it goes fast so I'm happy to be there for them in this way but also get to pursue my passion.  It's a good balance!  
It feels so great to be in this position and I have very grateful for the opportunity. (Shout out to BFF for the encouragement and reference)  
The Music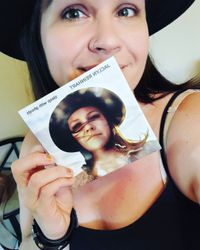 Wowwee! 
It's been five years since I released any music. So this year was a huge deal for me. It was time-consuming, expensive, and stressful but it was all worth it. Having some pretty amazing people on the record was beautiful and I'm proud of it.  It got some attention from a few press outlets, 3 of my songs were added to really cool playlists on Spotify like the EH! List by Exclaim Magazine, it was voted favorite October Release on Americana Highways so now I'm on their "New Americana" playlist plus for the first time ever, I released a music video for Rearview, and it's at over 5000 views!  Check it out!  
Funds 
As far as funding goes I had some incredible support through the MID Program and am so grateful for the support of the Government of NB & Music New Brunswick. I was able to take my band to Toronto, cover a bit more of the expenses for the record, and take advantage of some professional development by working with mentors that have helped me define my goals and more.  I also was awarded a Professional Development grant through the songwriter's mothership in Canada the SOCAN Foundation!  I am so glad these programs are available for us artists because without them it would take much longer to achieve my goals or I'd need to take a second job that could take away more of my creative time.  
Speaking of now that the album is out and the new year is upon us...I'm going to be diving into more writing, co-writing more...then...more writing. The Fire Signs and I are looking to start creating together and will be playing more shows in 2022 both with myself as a solo artist and also as a unit. I CANT wait!  
Christmas 
I'm not done shopping but not worried about it. Mostly I enjoy the whole scene of the holidays with lots of great movies, food, and company. My kids and I love making hot chocolate and curling up on our big comfy corner couch and I can't wait to see them open presents on Christmas morning!  
To wrap it up 
There were some pretty major changes in my life that made for a remarable year and I am so grateful I was finally able to reap the seeds I had sewn over the years and actually enjoy the ride.   
I'm heading into the New Year with NO resolutions because I don't do that.  I like to see it from the angle of a renewed outlook on what I want to achieve in 2022.  I'm open to the possibilities in life and love. 
I hope you can reflect on the good stuff you experienced this year, learn from your mistakes, and heal from the hurt. 
All the best to you and yours in the new year. 
Love, 
Jaclyn Reinhart  
You can listen to my podcast version of this blog too! 
https://anchor.fm/jaclynreinhart/episodes/Another-one-for-the-books---Farewell-2021-e1brjtq